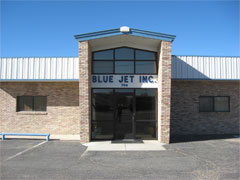 Blue Jet Inc.
was founded and incorporated in 1968 as the first independent wireline company in the San Juan Basin. Blue Jet has been and remains family owned and operated.
Crew Experience
The Crews here at Blue Jet Inc. are some of the most experienced and well versed in the San Juan Basin. Two of our Operators have been Perforating and Logging for 12 years, while our Senior Operator has 26 years wireline experience.
At the Senior Management level, Blue Jet is fortunate to have a combined 100+ years of Logging and Perforating expertise specifically for the San Juan Basin. We have an in-house TCP Specialist who also has experience with pump-downs in pressures up to 15k.
Work/Safety Environment
Blue Jet and its employees strive for a working environment free of incidents both on and off location. Each individual takes it upon themselves to look after the welfare of themselves and all others around them. Everyone holds the ability and responsibility to stop the job if unsafe or potentially dangerous situations transpire.
Business Updates
Blue Jet as of January 1st, 2014 has expanded into the DJ Basin with our shop location in Mead, CO. Management and our operators at this location have extensive knowledge of operations specifically related to the DJ Basin. Any and all services Blue Jet provides will be available at both locations.